The municipality Henndorf am Wallersee in Austria is about 24 km2 and has about 4900 inhabitants.
To keep the extensive green areas in good condition, the municipality has had a new "assistant" in the custom works yard since May last year, the Multi Carrier HXF 2302 with a 1.4 m Quadsaw and a 1.5 m Cutterbar.
With the Cutterbar, the hedges are beautifully shaped, because in a tourism community, everything must look tip top. The quadsaw is used for the rougher hedges, forest edges and places where growth is not maintained every year.
In addition to the maintenance of 60 km municipal road and all the other tasks, the seven-member customs work force managed by Simon Leitner, maintains about five kilometers of hedges ranging from one to four and a half meters in height.
"In the past, four workers were busy with this job for almost seven weeks. Now the job is done in 14 days by only three workers. Two men used to cut hedges while the other two removed the cut-off material from the road. Now only one worker is cutting hedges and we are over three times as fast! In addition, work can be done quite comfortable even in the rain." Simon Leitner tells us.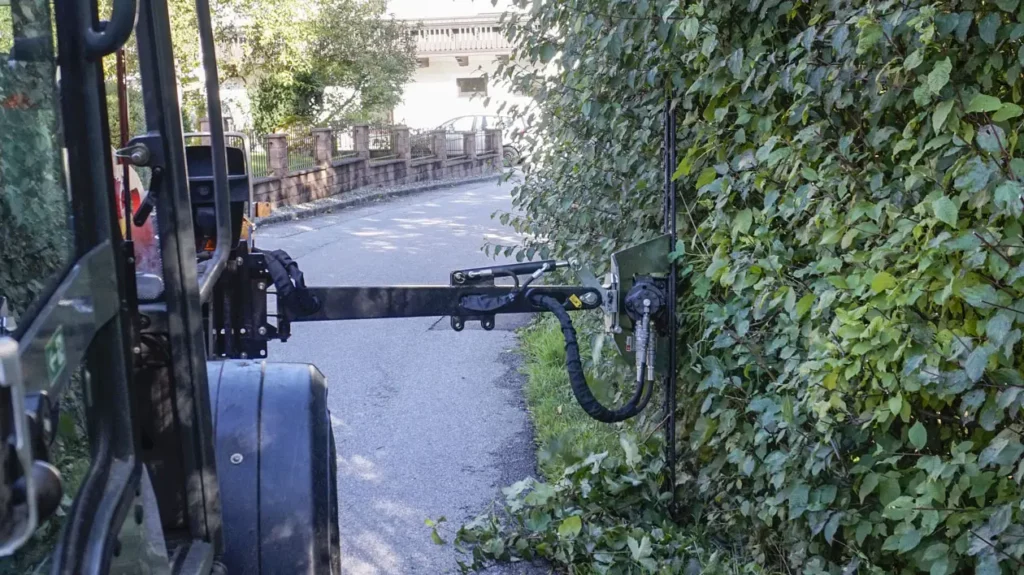 Among the inhabitants, the new tools are also very popular because the old motor-powered hedge trimmers have always made a lot of noise – the noise has now disappeared. "I drive in idling mode, which our Weidemann, that has almost done 2000 hours, does very calmly and on top of that it is very economical in consumption. Now there are no more noise complaints in the community – so it is for the greater good for everyone." Smiles Simon Leitner.
A statement by Mr. Leitner the customs work force manager of the municipality Henndorf is very pleasing: "This is the best machine that we have acquired in the municipality in the past few years, next to the Hoftrac – just great! In a few minutes the Multi Carrier HXF and the attachment tools are mounted on our skid steer loader. We always look forward to drive with the HXF!".